Doctor Dimitri Melnikov, MD
Plastic and reconstructive surgeon from Moscow, Member of the International Society of Aesthetic Plastic Surgeons.

First post-mastectomy breast reconstruction performed in Russia using a SIEA-flap.

Over 70 publications in scientific journals.

I have over 10 years of experience in breast & body aesthetics and reconstruction. I built my practice based on the knowledge that I got from the best plastic surgery facilities in the world. I was shaped by places like Mayo Clinic in the USA, Flaukliniken in Germany, University Hospitals in Brussels and Linz. But my practice here in Russia is what continues to shape me every day.
Russian women are highly demanding. They want to look good day and night, with or without make up on, both in the office and in the gym. That's why working with them is so rewarding, you know that they will never accept anything less than perfect.
When you make a decision to become my patient, you don't just become a patient for the time of the surgery or for the time you heal. You can rely on my team to support you whenever you have any surgery-related questions in the future.
Patient safety always comes first, whatever I do. That's why my facility has an intensive care unit that provides my patients with all the necessary support following the surgical procedure. This is a must. Yours truly,
Doctor M
Surgical activities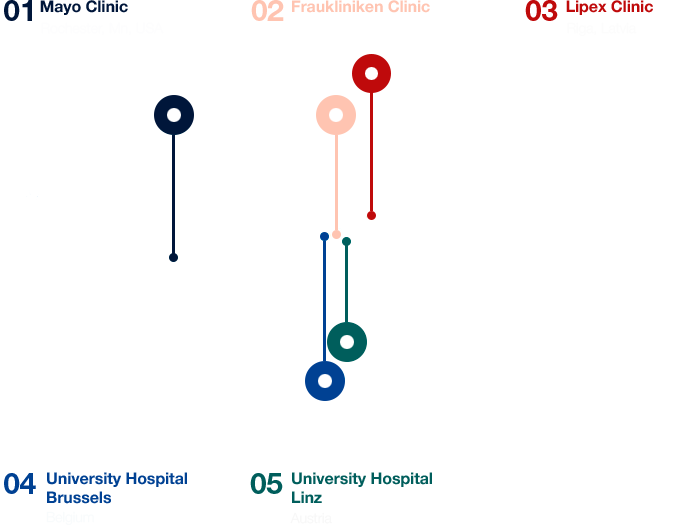 2008 – 2009
Lipex Clinic, Riga, Latvia
2008
University Hospital of Linz, Linz, Austria
2010
MAYO Clinic Rochester, Minnesota, USA
2012 - 2014
University Hospital of Brussels Brussels, Belgium
Surgical Procedures
All results are strictly individual and based on patient requests, features and age. For more information, please contact us.
Schedule on online consultation via WhatsApp or e-mail or leave us a message here, we'll get back to you as soon as possible:
Russia, Moscow, Bolshaya Pirogovskaya Street, 6